I've never been a huge audiobook person. I'm the kind of person that has trouble listening and absorbing information from that alone. When I watch stuff on TV, I always use subtitles. I usually have to watch people's mouths to understand what they're saying during parts of conversations. What I'm trying to say is, it's a struggle for me! So audiobooks and I have never gotten along very well.
That all changed in 2019! Last year, I read a bunch of books by listening to them, and I'm now pretty obsessed. I've found that a good narrator makes A HUGE DIFFERENCE, as does the ability to speed the books up on your device. (I suggest trying them at 1.25 – 1.75x speeds! It'll be a little jarring at first, but you'll be surprised how quickly you get used to it, and how quickly you finish books this year while sitting in traffic!)
I wanted to put together a list of some of my favorite standouts in the audiobook format, and hopefully maybe give people like me – who thought listening was totally out of the question – a chance at enjoying books in a whole new way!
---
1)
SADIE

by Courtney Summers

Genre: YA Thriller

Audiobook Length: 7 hrs, 57 mins

Narrators: Rebecca Soler, Fred Berman, Dan Bittner, Gabra Zackman

This book destroyed me, but is so good that there's no way I couldn't recommend it as my absolute favorite audiobook. This story is tragic and sad and painful, and I loved every single second of listening to it. Because of the way it's written – partially done as a podcast – the audiobook format works so well; I own the physical copy and did read parts of it, but hearing it just added another level of "omg this is so good" to what is already an incredible story.
2)
DAISY JONES & THE SIX

by Taylor Jenkins Reid

Genre: Historical Fiction

Audiobook Length: 9 hrs, 3 mins

Narrators:Jennifer Beals, Benjamin Bratt, Judy Greer, Pablo Schreiber

I can't recommend this one enough – I'm actually reading another one via audiobook by the author right now 'cause I wanted to see if it'd hold up to this one (and it is!). I loved reading about Daisy Jones and all the other people in the story. The cast did such a great job bringing these characters to life that it's shocking this isn't a real story! I loved the Fleetwood Mac / Stevie vibes I got from Daisy, and just fell in love with the entire thing.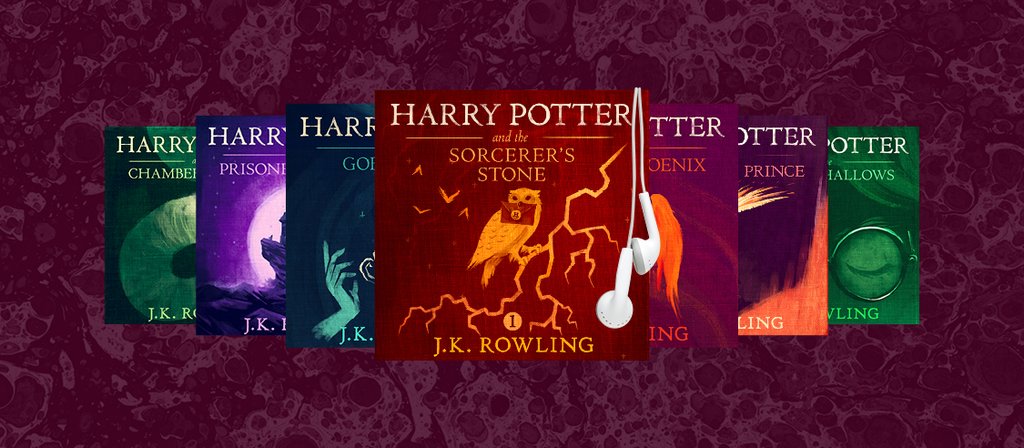 3)
THE HARRY POTTER SERIES

by JK Rowling

Genre: Children's / YA Fantasy

Audiobook Length: Varies

Narrators: Jim Dale

I've heard that Stephen Fry is the best HP narrator, but the library doesn't offer his version (and neither does Amazon)! So I went with Jim Dale, and was not disappointed at all – he does everyone's voices. If you've read Harry Potter, you know there are A LOT of characters, and he does them all so well! I will say his Hermione is… lacking, haha. But she's the only one I don't super love, and even she is sometimes not terrible. Give it a chance! It's very magical. He even sings some of the songs, like the Sorting Hat one!
4)
THREE WOMEN

by Lisa Taddeo

Genre: Non-Fiction

Audiobook Length: 11 hrs, 24 mins

Narrators: Tara Lynne Barr, Marin Ireland, Mena Suvari, Lisa Taddeo

This one is a bit linear in scope – all of the women interviewed or who have their stories told are basic white ladies, so the diversity aspect isn't very strong. That said, there are some poignant moments in the book, and the cast of narrators does an excellent job of telling each woman's story. This is a great book for people who watch shows like Desperate Housewives probably (I haven't seen it, but the ladies in the commercial reminded me of the ladies in this book). I was definitely entertained!
5)
SUMMER FROST

by Blake Crouch

Genre: Science Fiction

Audiobook Length: 2 hrs, 19 mins

Narrators: Rosa Salazar

This one is actually part of the Amazon FORWARD Sci-Fi Series that I reviewed on my blog last year here! This was one of my favorite stories, and the audio version was so well done. I loved it from beginning to end, and the ending really took me by surprise. Loved it!
---
Like my blog? Support me on Patreon for as little as $2 per month, and gain access to Patreon-exclusive freebies, polls, blog previews, and more!
Etsy | Twitter | Bookstagram | Instagram