Title: The Devil's City
Author: Sara Tantlinger & Matt Corley
Edition: Digital
Page Count: 90 pages
Rating:  5 / 5 ✨✨✨✨✨
Short Summary: 
In the latter half of the 19th century Chicago grew from a town of a few thousand farmers to a sprawling metropolis of skyscrapers and a population of over 500,000. Those final decades were associated with rampant growth, progress, and innovations culminating in the World's Exposition of 1893. Yet Chicago's emergence to prominence was not without tragedy. The Great Chicago Fire of 1871 nearly reduced the city to embers. Riots and strikes broke out. And there was the World's Exposition.
The bustle of the World's Expo hid an appalling snake in the grass, Mr. Herman Webster Mudgett, aka Dr Henry Howard Holmes. Holmes would become infamous as America's first serial killer and proprietor of The Murder Castle. He confessed to 27 murders, and was purported to have killed as many as 200 victims before his capture. Some believed he may have been Jack the Ripper. Others knew him as a devil.
---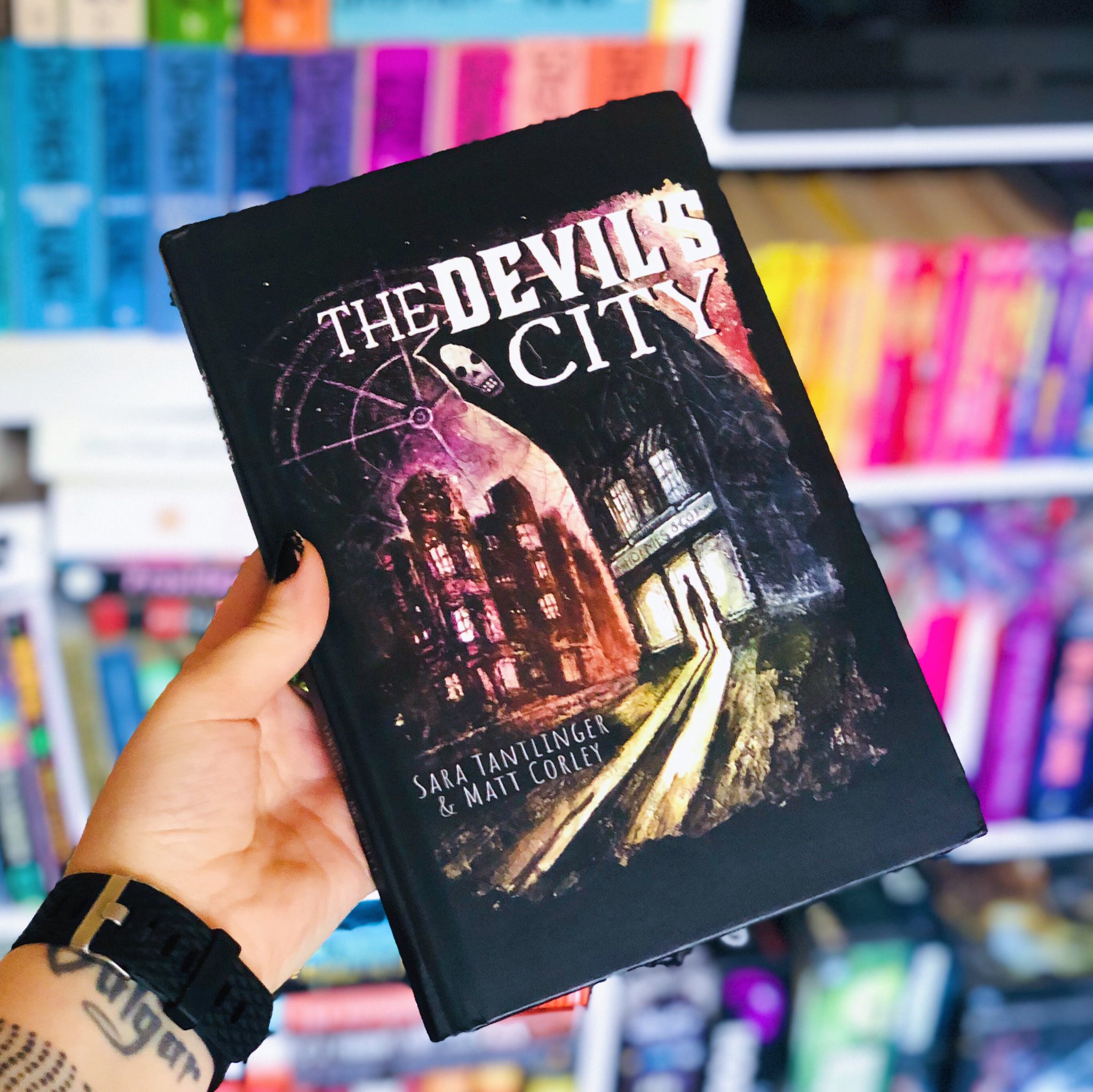 What is it about serial killers that makes for such compelling reading? I'm such a squeamish person in real life, but I never seem to shy away from reading about the things that some of the more depraved members of society have done to other people. While THE DEVIL'S CITY novella is technically a companion to the Horror in the Windy City tabletop roleplaying game that's seeking funding on Kickstarter right now (check it out here!!), this little gem contains more than enough mayhem and Murder Castle hijinks to solidify this as a standalone on any true crime geek's bookshelf.
Sara Tantlinger is a name you may recognize if you've been following my reviews for awhile, as she's written both a poetry book and a novella unrelated to the Windy City that I've loved and written about here on my blog. She's actually somewhat of an expert by now on the subject of THE DEVIL'S CITY actually – this is her second book focusing on the subject of H.H. Holmes' murderous life, the first being a poetry collection that won a Bram Stoker award a couple of years back. Immersing yourself in such a dark world and character can't be easy, but Sara does it with style and grace, creating a rich reading experience for the person diving into her writing that leaves the reader simultaneously repelled and wanting more.
Co-author Matt Corley specializes in bringing his creative visions and ideas to the tabletob gaming world, being the creative mind behind Saturday Morning Scenarios and co-creator of WHISPERS IN THE DARK, a "tabletop roleplaying game of investigative horror built around the 5e rules of the world's most popular tabletop roleplaying game that you (likely) already know how to play". Horror in the Windy City is the new WHISPERS campaign, and if a murder investigative tabletop roleplaying game sounds up your alley, I definitely suggest checking it out!
In THE DEVIL'S CITY novella, we meet a handful of characters including H.H. Holmes himself that will be playing a part in the tabletop game. Each chapter of the novella is devoted to one of a cast of characters that are varied both in backstory and in motivations. We learn about each character, what drove them to the Windy City, their hopes and desires. From architects married to unhappy wives to men with the mysterious gift of being able to locate hidden artifacts and objects, each character is fleshed out in a way that keeps the reader engaged and invested in what happens to them – which, as you'll see, is usually pretty horrifying.
I love that this story didn't really skimp on the gore, but didn't rely too heavily on it either. Rather than only focusing on the grittiness of bloodshed, we're privy to some of the inner workings of a madman's thoughts. Consumed by his desire to know more and to push boundaries, inflicting pain on his subjects is just a bonus to what he feels is work that he's being called upon to do by something bigger than himself. The thin line straddled between inquisitive scientist and bloodthirsty killer is conveyed so well even in just a short collection of individual character's stories, and the author does an excellent job of letting you get into the murderer's head.
I'm very eager to find out more about the characters, and to see them given life during a playthrough of the campaign. Having a novella tied to provide a bit more substance to the story – especially considering how easy it would be to turn a horror campaign into one more focused on shock value & gore than storytelling – is such a great addition, and I love that we have a window into the lives leading up to the events of the actual campaign.
If you're a fan of horror, true crime, or tabletop gaming, definitely take a look at the Kickstarter for this one. It's obvious that a lot of effort and hard work has gone into creating an incredibly immersive gaming experience, from the skilled writers to the incredibly talented artists all working on the project. I'm excited to see what's in store for the future of Whispers in the Dark, and hope that it includes more amazing novellas like this one!
---
Like my blog? Support me on Patreon for as little as $2 per month, and gain access to Patreon-exclusive freebies, polls, blog previews, and more!
Etsy | Twitter | Bookstagram | Instagram